What is Digital Adoption?
Digital adoption is the process of learning how to use new technology so you can take advantage of its full potential. In a business setting, this is when a company facilitates the widespread use of new technology by its employees or customers during an implementation phase.
Drive digital adoption for your organization through in-app training & support for employees and customers.
Why Is Digital Adoption Important?
Today, a medium-sized business uses an average of 137 different SaaS applications, and enterprise organizations are expected to spend over $1.78 trillion on digital transformation projects in 2022. According to a Bain & Company study, only 8% of global companies ever achieve their targeted business outcomes from their digital technology investments.
A strong digital adoption strategy supports organizations' digital transformation efforts, allowing them to achieve technology ROI and overall digital innovation.
Digital adoption ensures that you are getting the most out of your technology investments. If customers are using only part of your product, they are not seeing its full value. Similarly, if employees use only bits and pieces of the software you purchase, your company will not see the improvements you intended.
of global companies achieve their targeted business outcomes from their digital transformation investment.
Benefits of Digital Adoption
The most significant benefit of driving digital adoption for your employees and customers is maximizing ROI for new technology. The specific advantages your company gains from the digital adoption process will depend on the technology you're implementing.
For example, adopting automation technology will increase efficiency and free up employees for more important tasks.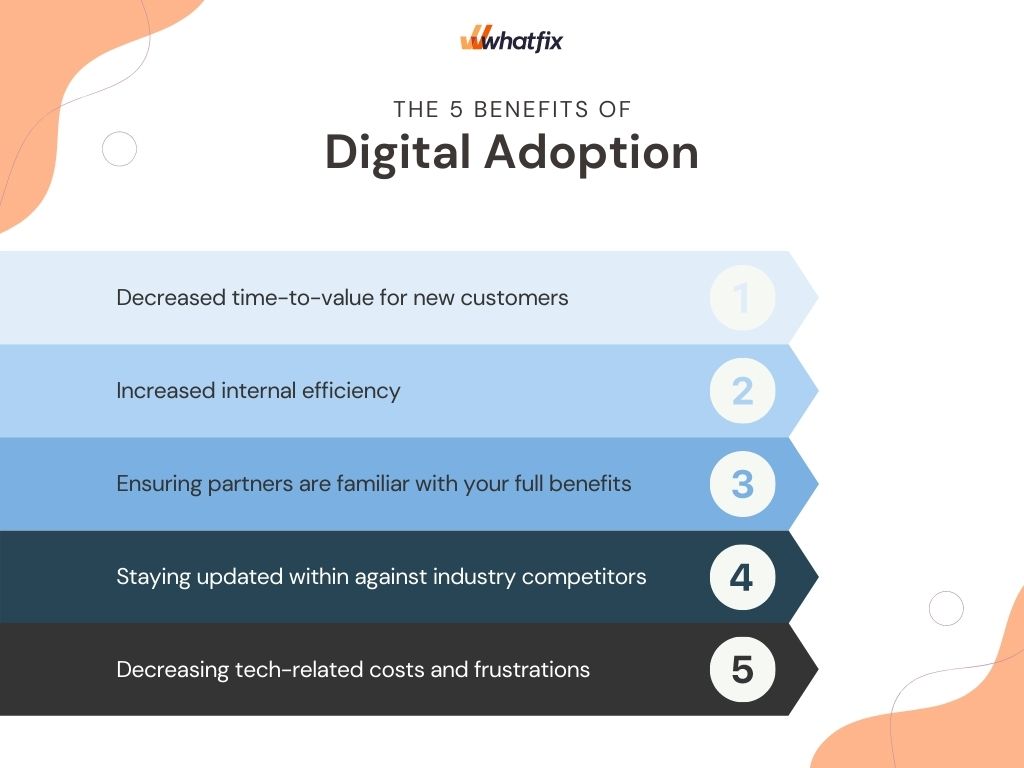 Companies typically undergo digital adoption in order to increase efficiency, reduce costs, or solve other business problems. For example, a bank might implement automated form-generation software to save valuable time.
However, the software can only benefit the company if employees take full advantage of it. Digital adoption occurs when the company has fully embraced the new technology and can therefore reap all the benefits of implementing it.
Here are the most impactful benefits of digital adoption:
Decreasing time to value for new customers by helping them reach their "aha" moment faster
Increasing overall internal efficiency
Ensuring partner companies are familiar with the full benefits of implementing your product
Staying up to date within your industry
Decreasing technology-related frustration for employees or customers
Decreasing the need for internal technical support teams, reducing support tickets, and empowering your employees to be technology experts.
How to Drive Digital Adoption
Clearly communicate the potential benefits of the new technology to users.
Hire a digital adoption manager to oversee training and technology adoption 
Implement a digital adoption platform to streamline onboarding and training
Develop a knowledge base and a self-help menu so users can easily find answers to their questions.
Monitor user behavior analytics to see where employees or customers are getting stuck.
Collect feedback during and after onboarding to see how you can improve the process.
Examples of Digital Adoption
Digital adoption has far-reaching benefits that span multiple use cases for companies across industries. Below, we put together examples of successful digital adoption by top companies.
| Company | Industry | Digital Adoption Use Case | Brief Description |
| --- | --- | --- | --- |
| Corrigo | SaaS | Customer Onboarding | Corrigo customers were having trouble making full use of the company's facilities management platform. Corrigo increased digital adoption by using Whatfix to facilitate onboarding and alert customers to new features. |
| Vanquis Bank | Finance | Customer communication | Vanquis Bank adopted an automated system of calls and texts so they could remind customers of payments due. The bank's digital adoption resulted in increased customer contact, with 60% less direct input from agents. |
| Dimensions UK | Nonprofit, Housing | Cross-team patient support | Dimensions UK adopted a system called Iplanit so that patient preferences, needs, and medications could be documented in a central location easily accessible by all members of the patient's care and support teams. |
| The Home Depot | Retail | Employee training | Home Depot's training system was outdated, and it needed a way for employees to learn while on the sales floor. To solve this, the company worked with Udemy and adopted a knowledge application that enabled employees to train while working. |
| Experian | Data and analytics | Sales | Experian adopted Salesforce for its global sales team and heavily customized the app to suit Experian's business needs. The customisation led to some adoption challenges, but Experian implemented Whatfix to drive digital adoption across sales teams. |
| Maxwell Health | HR | Product updates and documentation | Maxwell Health adopted Whatfix to keep its product documentation continually up to date as new features were released, which reduced the administrative workload for employees. |
| Mayo Clinic | Health care | Data storage and analytics | Mayo Clinic partnered with Google to host its data and analytics in the cloud. This has enabled Mayo Clinic to store, organise, and access patient data from a single secure location. |
| Partners HealthCare | Health care | Patient pre-screening | Partners HealthCare created a chatbot to screen potential patients. The bot asks a series of questions and then recommends that a patient be tested for COVID-19 or suggests next steps they should take. The bot reduces the number of people waiting for COVID-19 screening and lowers the workload for hospital staff. |
What Is a Digital Adoption Platform?
A digital adoption platform (DAP) is software designed to guide your employee or customer as they navigate through a new application, as well as provide on-demand support for continuous training.
A DAP walks the user step-by-step through different sections of the application. Leveraging a DAP helps ensure a smooth and complete training and support process.
In addition, digital adoption platforms have self-help features that allow users to find answers to their questions quickly, without having to call customer support. This saves time both for them and for your support team.
Common features of a digital adoption platform include:
Step-by-step guided walk-throughs
Training videos
Knowledge-base articles
Contextual self-help menu
New feature announcements and alerts for product update
Structured training in the form of microlearning plans
User analytics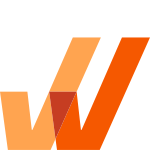 Request a demo to see how Whatfix empowers organizations to scale enterprise-wide changes, improve user productivity, and drive digital adoption fast.